If France is one of the European countries closest to the United States, it is still a long way off. Packages traveling to France must cross the country's borders and 4,775 miles from the Atlantic Ocean to reach their destinations. As a result, international transport can be long, arduous and, at times, expensive. However, it doesn't always have to be!
This article describes the best carriers for shipping to France, the unique shipping requirements, and the shipping costs required for postcards, envelopes, and standard packages.
Best Carriers for Mail to France
United States Postal Services (USPS), Federal Express (FedEx), and United Parcel Service (UPS) ship to France.
For lightweight envelopes and packages, the USPS is usually the most affordable carrier. First, the USPS transports all envelopes and packages to customs in France. The mail is then collected by La Poste, which delivers it to its final destination.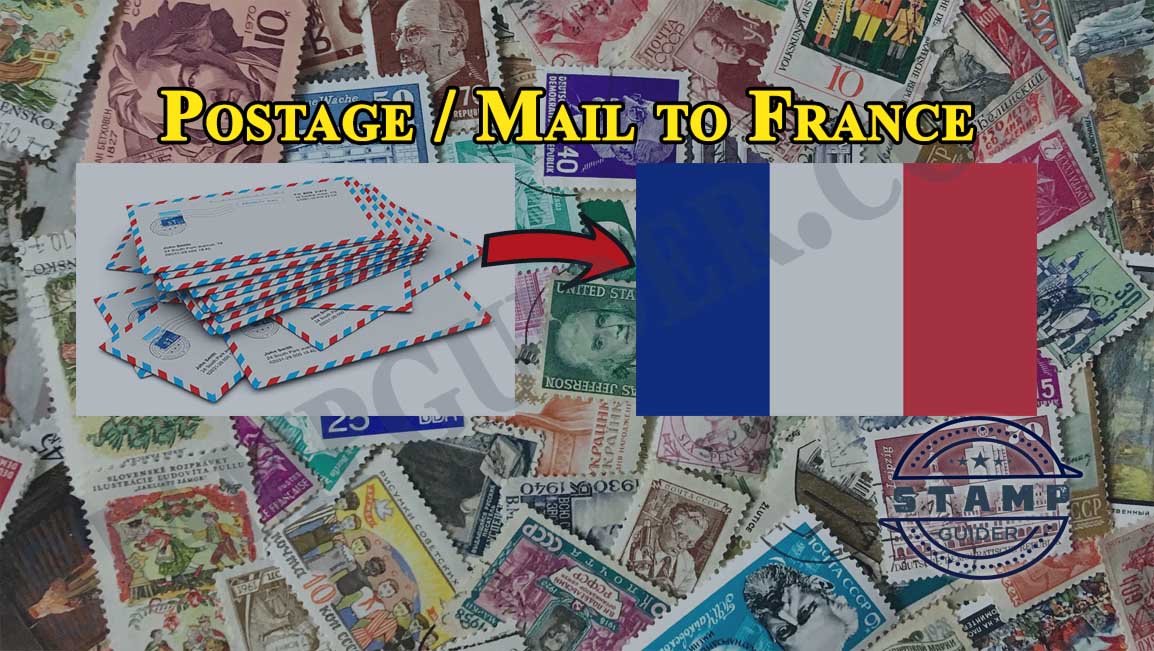 However, while the USPS is generally the cheapest option, it is not the most efficient. If you need your package to arrive quickly or at a specific time, FedEx or UPS is the best shipping option. FedEx is the most expensive, but it offers the most final delivery days and has several shipping services that can guarantee delivery within a certain time frame.
That said, since the USPS is generally the most affordable option, the shipping costs listed in this article reflect the USPS prices (unless otherwise noted).
Postage to Send Postcards to France
Postcards can be sent via USPS using international postage rates. To send a postcard to France, you will need $ 1.20 for postage, which can be covered by one first class world stamp forever ($ 1.20) or three first class forever stamps ( US $ 1.65).
The USPS defines postcards as rectangular cards with dimensions between 3.5 × 5.0×0.007 inches and 4.25 × 6.0×0.016 inches. Cards outside of these dimensions (or not rectangular) require additional postage.
Postage to Send Standard Envelopes to France
Envelopes can be sent to France using USPS international postage rates. To send an envelope of less than 30 grams to France, you will need $ 1.20 for postage. You can use one Global First Class Forever badge ($ 1.20) or three First Class Forever badges ($ 1.65).
If your envelope weighs more than an ounce, you will need an additional $ 1.04 on postage for each additional ounce.
The USPS defines standard envelopes as envelopes with dimensions between 3.5 × 5.0×0.25 inches and 6.125 × 11.5 × 0.25 inches. If your envelope is rigid or not rectangular, it will be considered non-machinable, which means it will have to be separated by hand. Non-machinable envelopes require an additional $ 0.21 for postage.
Deductible for sending large envelopes to France
Large envelopes can be shipped to France using USPS international postage rates. The USPS considers large envelopes to have dimensions between 6.125 × 11.5 × 0.25 inches and 12x15x 0.75 inches.
The shipping costs required for sending large envelopes depend on the weight of your envelope:
| Weight | Postage Required | Stamps Required |
| --- | --- | --- |
| 1.0 ounce | $2.40 | 2 Global Forever Stamps ($2.40) or 5 First Class Forever Stamps ($2.75) |
| 2.0 ounces | $3.39 | 3 Global Forever Stamp ($3.60) or 7 First Class Forever Stamps ($3.85) |
| 3.0 ounces | $4.37 | 4 Global Forever Stamp ($4.80) or 8 First Class Forever Stamps ($4.40) |
| 4.0 ounces | $5.36 | 5 Global Forever Stamp ($6.00) or 10 First Class Forever Stamps ($5.50) |
| 5.0 ounces | $6.34 | 6 Global Forever Stamp ($7.20) or 12 First Class Forever Stamps ($6.60) |
| 6.0 ounces | $7.32 | 7 Global Forever Stamp ($8.40) or 14 First Class Forever Stamps ($7.70) |
| 7.0 ounces | $8.31 | 7 Global Forever Stamp ($8.40) or 16 First Class Forever Stamps ($8.80) |
| 8.0 ounces | $9.29 | 8 Global Forever Stamp ($9.60) or 17 First Class Forever Stamps ($9.35) |
| 9.0 ounces | $11.26 | 10 Global Forever Stamp ($12.00) or 20 First Class Forever Stamps ($11.55) |
| 10.0 ounces | $11.26 | 10 Global Forever Stamp ($12.00) or 20 First Class Forever Stamps ($11.55) |
Visit Where to Buy Stamps to find out where to buy stamps near you.
Postage to Send Packages to France
The shipping costs required for sending packages to France are based on the size and weight of the package. You can calculate the cost of postage for your package using the USPS Posting Price Calculator.
To use the USPS Postage Price Calculator, follow these steps:
In the "Which country is the target country" drop-down menu, select "France".
Enter the date and time you expect to ship your order.
Select the type of package you want to send.
A new page will appear with the prices of several shipping options in your area.
You can choose the shipping method of your choice depending on the desired delivery date. After determining which shipping method you want to use, you can print a label using USPS Click-N-Ship.
If you want to avoid the hassle of calculating the size and weight of your package, you can also ship items using USPS Flat Rate boxes. Flat-rate boxes come in different sizes and can be shipped for a standard charge regardless of the weight of the contents. For more information about the flat rate shipping options offered by the USPS, visit USPS Priority Mail.
Delivery times for France
The average delivery time for First Class Postcards and Envelopes sent by USPS First Class Mail International (the standard shipping option used) is 7-21 days. If you send postcards or envelopes using Priority Mail International, the delivery time will be reduced to 6-10 days. Priority Mail Express International is the most expensive option for postcards and letters, but guarantees delivery in 3-5 days.
Package delivery times depend on the carrier and shipping method you choose. Customs can also delay the delivery of packages. Typically, packages shipped with USPS, FedEx, and UPS take 2-7 days to reach their final destination.
Addressing correspondence in France
The addresses in France are similar to those in the continental United States, with only a few notable differences.
First, make sure your addresses are written in the correct place on your envelope:
Destination Address: Write the destination address in the center of the back of the envelope. In addition to the message in the upper right corner, the destination address should be the only thing written on this side of the envelope.
Return Address: Write the return address on the front flap of the envelope (after sealing it). La Poste likes to write it here to prevent the envelope from being opened or tampered with.
Second, keep track of your letters and lines! La Poste will only accept addresses if they meet the following criteria:
Each address line cannot contain more than 38 characters
The address cannot contain more than 6 lines in total
Each proper name must be capitalized
Finally, addresses should be completed in the following way:
Company Name (optional)
Name of Addressee
Street Address
Zip Code and City
Country Name
Example:
FRENCH COMPANY (optional)
John SMITH
100 Street
75005 Paris
France
Additional information regarding each line of the address is discussed below:
Line 1: company name (optional)
If your letter is business or business-oriented, the business name should appear in the first line of the address.
When writing the company name, the company name (or at least the last word of the company name) should be all capital letters. For example, a French company or a French company would both be acceptable.
Line 2: recipient's name
This line should reflect the name of the person you're sending to. The recipient's last name must be in all capitals.
You can also consider using French titles with the name. For example:
"Sir" or "Mr." for a man
"Madame" or "Madame" for a woman
"Mademoiselle" or "Mlle" for a young girl
For example, you can write "Mr. John SMITH "or" Madame Sue SMITH ".
Line 3: Address
When you write the mailing address, you want to write the street number followed by the street name. Do not use commas to separate the house number and the street name.
Line 4: postal code and city
This will annoy most Americans, so be very careful. In France, you want to write the postal code, then the city – and not the other way around! French postal codes have five digits.
Some addresses, especially business addresses, may also contain a "CEDEX". CEDEX stands for Courrier d'Entreprise à Distribution Exceptional. This is a special postal number assigned to certain businesses who receive their mail separately for more efficient delivery.
If the address has a CEDEX, the postal code will always appear with 5 digits, but the fully capitalized word "CEDEX" will be added after the city. For example, the above address could be:
FRENCH COMPANY
John SMITH
100 Street
75010 Paris CEDEX
France
Line 5: Country Name
This line represents the country in which your parcel's final destination is located (in this case, you will want to write "France").
Customs forms for shipments to France
Packages sent to France require customs forms.
If you ship with USPS, you can print customs forms on custom USPS forms. Envelopes and small packages require a Customs Declaration Form 2976, which appears as a separate item on the shipping label. If you are shipping medium to large cartons or items valued over $ 400, your package will require Customs Declaration Form 2976A and CP 72 Shipping Note, which includes a full custom report included with your parcel.
If you are shipping with UPS, you can complete your customs forms using UPS Electronic Data Interchange (EDI). If you ship with FedEx, you can complete your customs forms using FedEx Electronic Trade Documents (ETDs).
If you are concerned about your customs forms (or don't know how to fill them out), employees at USPS, FedEx, and UPS will be happy to help you fill out the forms and prepare your package for shipping.
Items prohibited from importing into France
Each country has its own set of rules regarding items that are prohibited from being imported or exported. Being able to ship an item from the United States does not guarantee that the item will pass through customs and enter your destination country. Therefore, it is important to make sure that the items you are shipping are not included in the list of prohibited or restricted items in France.
France currently prohibits the importation of the following items:
Arms and ammunition
Banknotes, coins that are legal tender in France, and precious metals
Cigarette lighters that use butane gas
Feeding bottles
Funeral urns
Goods bearing false marks
Human remains
Imitation pearls containing lead salt or any jewelry that has these pearls
Measuring instruments with units that do not comply with French law
Most live plants and animals
Most perishable, infectious, and non-infectious biological substances
Radioactive materials
Saccharine in tablets or packets.
France also has restrictions on several items. Restricted items include:
Bees, honey, and beeswax must be accompanied by a certificate of origin and non-infection issued by a qualified official.
Books not in compliance with French copyright laws.
Canned vegetables, fish, plums, and nuts that are not correctly demarcated.
Gold coins or other articles weighing more than 500 grams that do not possess a permit from the Bank of France.
Medicines or medical products that do not have a license from the Central Pharmaceutical Service of the Ministry of Health.
Perishable biological substances that are not addressed to approved facilities.
Plants, seeds, and bulbs without a plant health certificate.
Tobacco leaves and stems, manufactured tobacco, cigars, cigarettes, chewing tobacco, and smoking tobacco weighing more than 10 kilograms (22 pounds) that are not permitted on behalf of the State Monopoly.
For additional information regarding shipments within the United States and internationally, check out postage and shipping information on stampguider.com.