If you wish to send letters to the United Kingdom from the United States, Global Forever stamps cost $1.20 each. Forever stamps and domestic forever stamps that total $1.20 are also acceptable. If you send more than 1 ounce, there is an additional charge. In the USPS Price List, the United Kingdom is part of "group 5", so first class postage is needed for letters there.
How many stamps do I need for a letter to the United Kingdom?
You'll need to determine the correct number of stamps by weighing your envelope, then adding them to your cart, rounding up to the nearest ounce.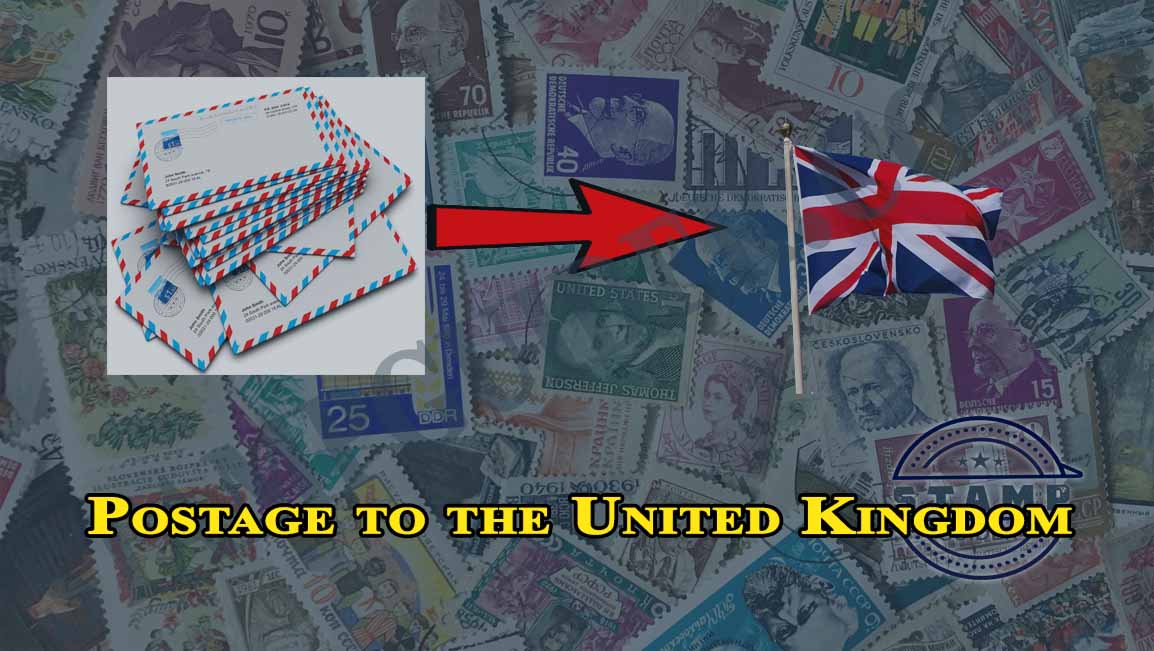 HOW MANY STAMPS FOR A POSTCARD?
The cost of a Global Forever Stamp for a postcard sent to the United Kingdom is $1.20. Your postcard should be addressed as follows:
It must be rectangular and not square or round.
At least 3-1/2″ high, 5″ long, and 0.007″ thick
The item must not exceed 4-1/4 inches in height, 6 inches in length, and 0.016 inches thick.
ENVELOPE REQUIREMENTS
Your envelope must be a minimum 5" x 3.5", maximum 11.5" x 6+⅛", and no thicker than 1/4″.
If your envelope is rectangular, not curved, and not uniform in thickness, it's not "machinable" and you'll have to pay $0.15 more for postage. See the full list.
The minimum size for square envelopes is 5″. Square envelopes are non-machinable, so add $0.21 to your order.
HOW TO WEIGH YOUR ENVELOPE
Your envelope's weight should be measured on a kitchen scale. It's easy to purchase an entry level scale from Amazon for $10.99. There's also a higher end scale from My Weigh on Amazon Prime for $38. A Milleroo scale costs $8.25 at Walmart, among other cheap kitchen scales.
You can find out the number of stamps you need for 4×6 photos in our guide – no scale needed!
WHERE TO BUY STAMPS
Online at USPS.com you can purchase stamps for just about $1 – shipping is less than $1 for stamp sheets. Many local banks, as well as Walmart and Amazon, carry stamps. At $16.18 for 20 stamps, Amazon is not a great deal, since you can get them for $5.18 less at the USPS.
ACCURACY NOTES
Postage rates are reviewed weekly.
The latest increase was announced in October 2020, and it came into effect on January 24, 2021. In addition, the price for an additional ounce increased to $0.20. There will be a 1 cent increase for meter mail and postcards. Letters and flats weighing one ounce did not change.
A previous rate change took place in January 2020. Domestic letters under 3.5 ounces are still charged the same rates. All global first-class mail rates went up for flats and international first-class mail. The global forever stamp went up from $1.15 to $1.20. Your old, round global stamps are worth $1.20 now as well. Additionally, flat rates for domestic flats rose by $0.05 per additional ounce as well as changing for international flats. First-class international mail gained an additional ounce with the $1.15 to $1.20 increase in the base rate.
WHERE TO APPLY STAMPS ON A LETTER
A letter's stamps should be positioned to the upper right of the page, ideally, in one row. However, a letter with multiple rows and lines of stamps will still be accepted by the post office.
THE DELIVERY TIME FOR LETTERS TO THE UNITED KINGDOM
Delivery to the United Kingdom usually takes between 7-21 days, as opposed to domestic letters that arrive within 1-3 days.
A shipment over 3.5 ounces or an envelope larger than a letter size will be rejected by the United Kingdom.
For large envelopes ("flats") to the United Kingdom, here are the rates. 3.5 ounces is the maximum weight for a standard letter, so use a flat if your package exceeds that weight. For the United Kingdom, the base rate is $2.40. Extra ounces are more expensive and the maximum size is 15.944 ounces. USPS rates are directly obtained from their website.
The flats must be at least 6-1/8″ by 11-1/8″ and at most 12″ by 15″. Letters have a maximum thickness of 3/4″ as opposed to standard letters.
It's most common to use 8.5″ x 11″ manilla envelopes. For $15.99 ($0.16 per pack) or $4.83 ($0.24 per pack), you can purchase a 100-pack on Amazon. You can also find them at local companies. One hundred packs are available from Staples for $40.79 ($0.41 each).
The USPS considers bubble envelopes in excess of 1/4″ thick "packages/thick envelopes," so you can't use them. Alternatively, you can order a label through PayPal and print it at home or visit the post office.
How many stamps should I get for a large envelope (flats) for the United Kingdom?
You'll need different stamps based on the weight of the item. Add stamps to the correct number on your envelope by weighing it on a kitchen scale and rounding it up to nearest ounce.