Donating to a charitable cause is one of the greatest ways to give to society. Not only do you feel good about helping others, but you also help them raise additional funds.
Different charities accept a variety of different kinds of donations. In addition to clothes and food, used postage stamps are also accepted, provided they're being used for the intended purposes.
Here are a few charities that accept stamps and a description of how stamp collecting works.
Why do Charities Collect Used Stamps?
The importance of letters is not diminished despite the convenience that comes with modern means of communication. Non-profit organizations and charities benefit from this.
Postage stamps are sent to a charity of your choice, including the one you choose. Therefore, the charity organization receives stamps and then sells them to stamp collectors at a premium price so as to get a revenue stream to fund its operations.
You can raise money for your favorite charity by collecting stamps: Here's how: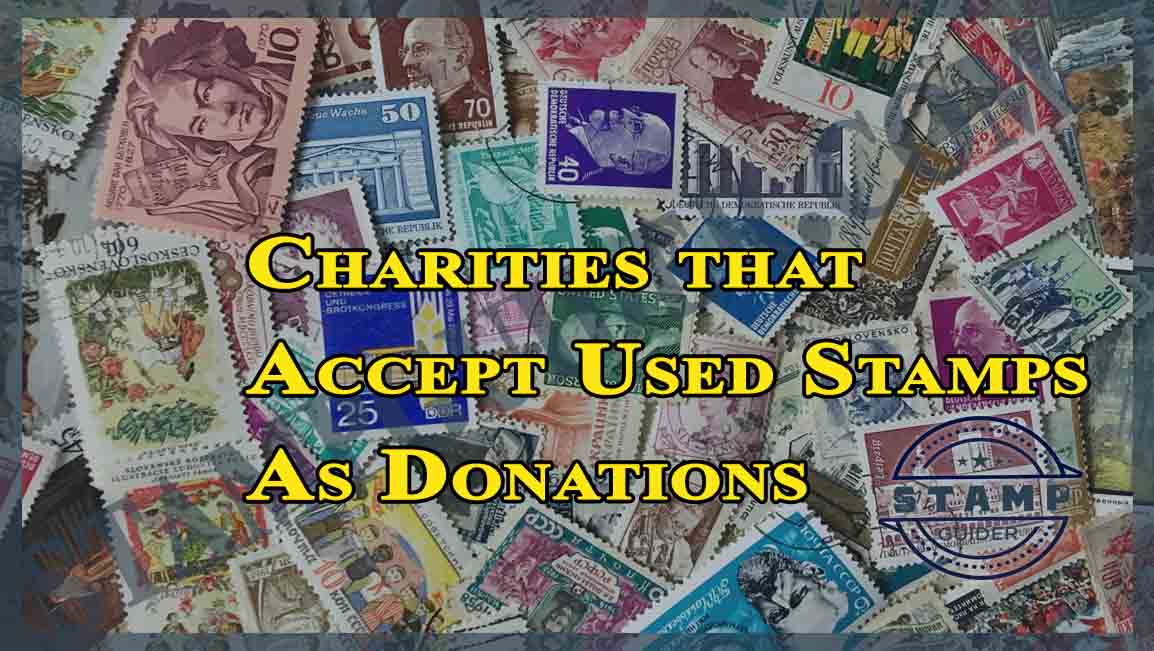 Check out our list of charities below if you're not sure if your preferred charity accepts stamps as a donation.
If you do not know what the current postage rate is, or if the stamps were given to you by someone else, you can seek help from a professional.
Simply seek out stamp collector societies in your area and ask them to appraise your collection. While it is not necessary, it is crucial if you want your donation to be deducted from your tax return.
Send the postage stamps to the charity organization you volunteered for. Wait for them to process a receipt. Having a record of your donation is especially helpful, so keep a copy of the receipt in case you need it for tax purposes.
Charities accepting stamp donations:
If you would like to donate, go to your chosen charity's website and you will find an address. The majority of charities accept stamps in all conditions, including first class, second class, foreign, and first day covers, packaging, and albums. Check before posting stamps.
Don't know where to donate? Some of the charities that accept stamps include:
1. The Royal National Lifeboat Institution
As the largest charity in the United Kingdom, the Royal National Lifeboat Institution (RNLI) was established with the purpose of reducing the loss of lives at sea by providing more lifeboats.
In addition to legacies and donations, the RNLI relies primarily on the efforts of volunteer non-paid members. Any donations, including postage stamps, are highly appreciated.
2. Oxfam Canada
It's part of a bigger organization working to end inequality and poverty around the world.
By running the "Stamp Out Poverty" campaign, Oxfam Canada raises money to fund its operations. As their name suggests, they sell used stamps and envelopes to stamp collectors. Despite its small size, their program has raised over $10,000 annually.
3. Omega Care for Life
They help people who have been bereaved, socially isolated, or unpaid caregivers. They, in essence, assist people who have devoted their lives to care for others.
They accept a variety of donations including used, unused and First Day Cover stamps from around the world, helping Omega raise funds for their cause.
4. St. Lukes Hospice
Based in Plymouth, Devon, St. Lukes Hospice cares for the sick and disabled. It serves residents throughout Plymouth as well as South West Devon and East Cornwall.
If you'd like to contribute to its cause, you can send them scrap metal, which they can exchange for cash. This non-profit company also accepts used furniture, old clothing, shoes, CDs, DVDs, curtains, towels, and more.
5. People Feeding People
People Feeding People is an organization with operations in the Gambia, which is one of the poorest countries in Africa. The company provides financial support to the St. John's School for the Deaf.
In addition to the school feeding program, the charity also relies on donations for school uniforms and learning stationery. Recycled stamps are one form of donation the charity accepts as well.
6. Bone Cancer Research Trust
The charity's name says it all: it supports primary bone cancer research as well as raises awareness of the disease. This non-profit not only funds research but also supports patients diagnosed with the illness.
One kilogram of postage stamps can help fund up to an hour's worth of research at the charity, which has operations in the United Kingdom and Ireland.
7. Wonky Pets Rescue
Another independent non-profit organization accepting stamp donations is Wonky Pets Rescue, operated by volunteers.
In the name, you might guess that it is a charity for pets. It aims to place all rescue animals in the best homes possible. I like the animal shelter most because it cares for animals considered unfit for rehoming.
8. Kicks Count
Kicks Count needs your stamps if you want to help moms-to-be and first time moms.
Their mission is to empower women by making women aware of potential dangers that arise during pregnancy, and also informing them about ways to stay in touch with their unborn children.
9. Willow Wood Hospice
Another nonprofit you can donate to is Willow Wood Hospice, an Ashton-under-Lyne charity.
This hospice center provides palliative care to any adult patient suffering from a life-limiting disease, including cancer. The organisation will cooperate closely with the respective families and carers to enhance a patient's quality of life.
10. Post Pals
Post Pals, founded by Vikki George, is a charitable organization that encourages children with terminal illnesses to smile.
Sending used postage stamps is an excellent way to support them even if you don't live in the UK. Stamps of all kinds, including old, standard, international and special edition stamps, are accepted by this non-profit.
11. Headway Surrey
Do you know about traumatic brain injury, a sudden injury that can happen to the brain when a hard blow or jolt occurs to the head? Headway Surrey helps people suffering from this condition.
Furthermore, the organization offers rehabilitation services that aim to improve patients' memory as well as stimulating their neural pathways. Saving used postage stamps is a great way to help Headway Surrey. If you have unwanted gifts and vouchers, you can also donate them.
12. Band of Rescuers
A need to help animals in need led to the creation of Band of Rescuers North Yorkshire (BORNY). In spite of the fact that the charity's headquarters are located in North Yorkshire, it's efforts extend beyond the borders of Yorkshire and England.
They accept all types of donations, including used stamps, and rely on these exclusively.
13. Thatu
Inspired by the efforts of South African volunteers, this UK-based charity was created. He was a young man who did casual gardening to support his family. Unfortunately, he died of AIDS. He was the sole breadwinner of his family.
We founded Thatu Charity to assist individuals experiencing financial hardships. As such, we partner with other non-profit charities to support marginalised communities.
14. The Royal Institute of Blind People (RNIB)
The Royal Institute of Blind People is another UK-based non-profit that was founded in 1868. They provide information and assistance to people diagnosed with vision loss.
15. Cry and Relief for the Young (CRY)
This charity is dedicated to helping children and youth who have been oppressed, excluded, and abused. This organization helps by providing shelter, food, water, and education to people in need.
In addition to printing new stamps, not only does CRY sell old stamps, but they also advise that envelopes be trimmed from the stamp before sending them in.
Conclusion
You can raise funds for your organization several ways if you are involved with a charity. There are several ways to raise money, including holding a fundraising event, enlisting friends, running contests on social media, and more.
Stamp collection is one of the easiest and most neglected methods of increasing awareness. Organizations collect as many stamps as possible and then sell them to stamp collectors. Send any postage stamps you have accumulated over the years and you will be helping the society.