Many people believe that the art of writing letters is dead. Not so fast! A staggering 185 billion envelopes are produced each year in the United States alone. When compared to the 25 million a year that was produced in the 1890, this is a huge increase. One who strongly contests the notion that writing letters is dead.
First Class Mail is the most popular and economical way to send postcards, letters, large envelopes and small packages up to 15.99 oz.
For light packages, the First Class Mail Package offers great cost savings compared to Priority Mail and Parcel Select Ground.
The price of first class mail packages is based on weight and distance.
Most letters or packages take two to three days to reach their final destination in the USA.
With more than 85% of the 185 billion envelopes produced each year being shipped, there must be a system in place to ensure delivery. This is where first-class mail or first-class postage comes in. First-class mail (also known as first-class postage) is designed specifically for sending envelopes and lightweight packages. If you want to send a letter, postcard, business document or anything small and light, first class mail is the best option. In addition to being the most affordable form of small postage, it is also the most accessible and straightforward.
| | | | | |
| --- | --- | --- | --- | --- |
| Mail Item | Width | Length | Weight | Our Rate 1.oz. |
| Postcard | 4.5″ max | 6.00″ max | Up to 1 oz. | $0.35 |
| Letter | 6.125″ max | 11.5″ max | Up to 3.50 oz | $0.50 |
| Large Flat/Envelope | 12.00″ max | 15.00″ max | Up to 13.00 oz | $1.00 |
First class mail types
There are three main types of first-class mail:
First class courier service – This service is available to the general public for the postage of envelopes and other light, flat packages.
First-class packaging service (retail) – This service is also available to the general public, but is specific to light packaging.
First class parcel service (commercial) – This service is intended for companies, both for sending simple mail and light parcels.
The first-class courier service and the first-class (retail) packaging service are the most affordable for those who want to send light mail. There is a wide range of options (tracking, signature confirmation, etc.) for all your postage needs.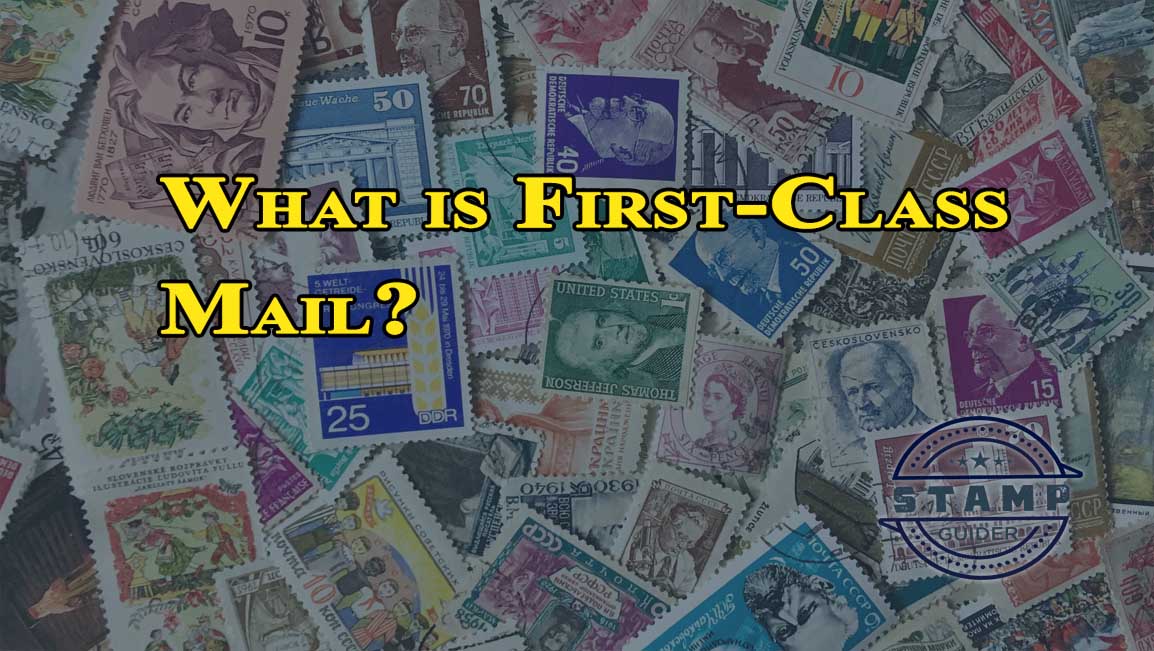 If you run a company that sends a lot of mail, the first class (commercial) package service is a good option for you. You will have access to all the great features that come with the retail service, but you will also benefit from the reduced rates that come with bulk mailing. This is a great way to reduce the amount your company spends on courier services. To qualify, you must send a minimum of 500 first class mailings per year. You can also obtain a business account for other types of mail with the USPS. They come with their own minimum shipping cost.
Unfortunately, these services do not offer the possibility to refund you for any postage you purchase.
USPS First Class Mail
If you want to send first class mail to the United States, the USPS is your best option. It is very affordable and can be done easily. USPS stands for United States Postal Service, and they offer first class postage stamps starting at just $ 0.55. There are many advantages to using USPS for your first-class courier service:
Tamper Seal – First Class Business and Business Correspondence is a very secure option for sending your correspondence. Envelopes, letters, postcards, etc., are sealed against forgery and inspection. The same can be said for sending packages through the first class retail service. However, if you intend to send orders through First Class Commercial Service, there is always the possibility of an inspection. The seal can be broken to determine if the proper postage has been paid and there are no illegal items in the mail.
Insurance – If you are unlucky enough that your package is lost or damaged, the USPS has insurance to cover it. They can afford to pay you up to $ 5,000 for items that cannot be located or are found to be damaged in transit. The value of the item sent determines how much you will receive through the USPS.
No Stamp Validity – Your stamps will never expire, so you don't have to worry about buying an entire book of stamps and going through them all. They are unaffected by rate increases, so even if first class courier rates increase after purchasing them, you can continue to use your stamps at the same cost.
Fast Shipping – There is no possibility of having a guaranteed delivery date with USPS First Class Mail. However, there is an estimated delivery time of one to three days from the original mail. This can be influenced depending on the distance between the source and the destination. It can also be affected by events such as natural disasters, road closures, etc.
Tracking – Although the USPS cannot guarantee the delivery time of your First Class Mail, you will be able to track the delivery status of your package. If you are shipping a package, tracking is included at no additional cost. However, tracking is not free if you send an envelope / flatbed package. If so (and you want to track your letter), options are still available. Barcode stickers are available for a small fee, which will allow you to track your package to its destination.
What you can send using first class mail
There are three different types of mail that you can send by USPS first class mail. These are:
Letters – letters can be sent by first class mail using a stamp. The cost of this depends on the weight of the letter. The maximum weight of a letter sent by first class mail is 3.5 ounces.
Postcards – Like letters, postcards sent by first class mail have a weight limit of 3.5 ounces. These are also charged with stamps and are slightly cheaper to send than letters in an envelope. An additional charge may be added if your letter or postcard is not square or rectangular.
Light packages – you can not only send simple packages via first class mail, but you can also send light packages. But what is the weight limit for first class mail packages? A "lightweight package" is a package that weighs up to 13 ounces. If your package is below that, you can send it by first class mail.
All retail packages, envelopes, stickers and stamps can be purchased on the USPS website or at the store. If you want to pay commercial prices, you will need to contact your local USPS to set up an account.
What is the Difference Between First Class Mail and Priority Mail?
A lot of people don't know what the difference is between first class mail and priority mail. This is perfectly understandable, but the answer is quite simple. The main difference is the weight limit on first class mail. As discussed in this article, USPS First Class Mail is designed for mail less than 13 ounces. Priority mail is essentially the same service, although it is provided for correspondence between 13 and 70 ounces. If you're using the USPS for your small mailings, it's a good idea to check Priority Mailings for your larger postage needs.
USPS Mail is still a great option for efficiently sending packages and letters up to 13 ounces. If this is something you do regularly, then you are on the right track!
Basic Pricing for First-Class Mail®, First-Class Package Service-Retail®, and First-Class Package Service® Commercial
Retail Mail Rate
Commercial Mail Rates
First-Class Mail Postcard

Single postcard: $0.36
Stamped postcard: $0.40

First-Class Mail Postcard
First-Class Mail Letter

First ounce $0.55
Each additional ounce: $0.20

First-Class Mail Letter
First-Class Mail Flat (Large Envelope)

First ounce is $1.00
Each additional ounce: $0.20

First-Class Mail Flat (Large Envelope)
First-Class Package Service-Retail Parcel

First four ounces for Zones 1 & 2: $4.00
Second four ounces for Zones 1 & 2 (from 4 oz to 8 oz): $4.80
See Notice 123 for detailed prices

First-Class Package Service-Commercial Parcel

First four ounces for Zones 1 & 2: $3.01
Each additional ounce for Zones 1 & 2 (from 4 oz to 8 oz): $3.46
See Notice 123 for detailed prices

 —–
First-Class Mail Metered Mail Letter

First ounce $0.51
Each additional ounce: $0.20
source – usps.com