Although this was a widely used term, some people in 2019 never used a PO box or mailbox. Simply put, a PO box is a secure post box at a post office. Traditionally, PO boxes were used to deliver mail to places where mail was not delivered directly to homes.
Today, PO boxes are used for a variety of purposes beyond necessity.
The United States Postal Service, USPS, offers voicemail service for people who want to hide their physical address, live in rural areas or have a small business. The reason you chose a PO box does not matter as much as the fact that you receive your mail safely.
Read on to find out more about the different types of PO boxes to choose from.
Choose a Location
The first thing to consider when renting a mailbox is the location. There are a large number of post offices across the country to choose from.
This means that you can choose the post office closest to your office or home. Along with that, if you have a home-based business, you can choose one in a big city to boost your professional brand image. A PO box address in California or New York will seriously increase your credibility as a small business.
Obviously, your mailbox must be somewhere that you can visit easily and regularly (preferably weekly) and pick up your mail.
How Size matters?
The USPS offers a few different options for mailbox sizes. Your choice depends on the amount and type of correspondence you receive each month.
Starting with small sizes, the USPS has two types of box in this range. The smallest box size is 3 inches by 5.5 inches. This would work for you if you only needed your mailbox to contain normal letters. The slightly larger option is the 5 by 5.5 inch size. This is convenient if you expect larger letters or more correspondence.
There is an option that is considered average. This box is 11 by 5.5 inches. If you expect small packages to be delivered frequently, this box is for you. This is a good medium sized box.
If you are expecting large packages or a lot of mail, there are two options that meet your needs.
The first is the 11 by 11 inch mailbox and the second is the 22.5 by 12 inch mailbox. The 11-by-11-inch box is larger than the size of A4 paper. This makes receiving large envelopes and correspondence convenient, because you don't have to worry about them being folded in the box at the time of delivery. The larger size is necessary if you receive packages of very large items regularly.
What is the right size?
We describe the details about the different mailbox sizes below. This gives you a clear idea of the right size for your needs.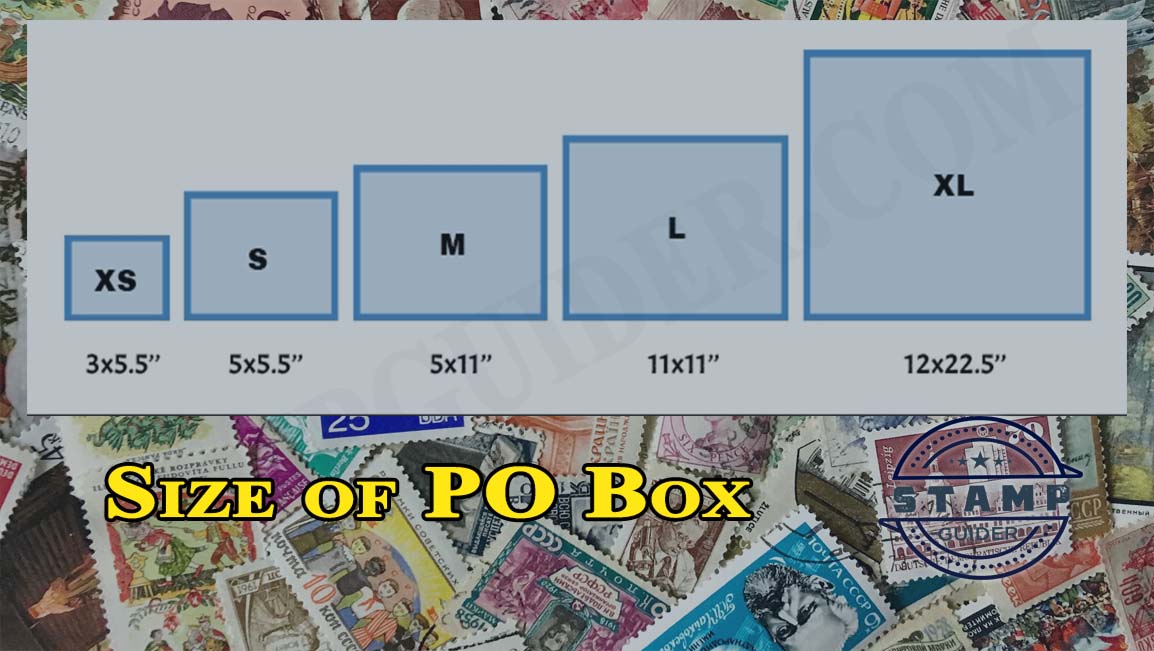 Size 1 – XS: 3 "x 5.5" (holds up to 10 – 15 letters)
Size 2 – S: 5 "x 5.5" (holds up to 10 – 15 bulky letters or 5 rolled magazines)
Size 3 – M: 5 "x 11" (holds larger envelopes, magazines)
Size 4 – C: 11 "x 11" (holds 2 shoe boxes and 10 – 15 letters)
Size 5 – XL: 12 "x 22.5" (sufficiently spacious for flat-rate boxes and packages)

Remember to keep in mind how often you will go through the mailbox to pick up mail. This is another factor to take into account when choosing a size. It is never a good idea to allow your box to fill and overflow. This does not go well with any post office.
If you are unable to collect your mail regularly, it makes sense to choose a larger box. The USPS will send notifications to update your box if this happens frequently.
How much does a PO box cost?
People are often concerned with the answer to the question, "How much does it cost to rent a mailbox?"
Fortunately, the cost of a mailbox varies depending on its size and how long you rent it. This means that you can find a box and a rental period that best suits your budget. You can choose to rent for 3 months, 6 months or a year according to what suits you.
The lowest mailbox cost is about $ 58 for 6 months, an average mailbox will be around $ 156 and the largest will cost around $ 513. There are options between these two.
Remember that if you cancel within the first 3 months of the service, you will be refunded for the last 3 months. But if you cancel after the first 3 months, you will not be refunded for the remaining 3 months fee.
Benefits of a PO Box
You can expect a variety of benefits from having access to your own mailbox. If you own a small business, a PO Box provides essential protection, personal security and privacy.
Privacy protection
Instead of using their home address, business owners who do not have a physical business office are encouraged to opt for a PO Box.
One of the most important reasons for a PO box is to keep your personal address confidential. You never know, a dissatisfied customer or someone even more dangerous may show up at your door.
For this reason, it is essential to use a PO Box for business websites and for correspondence and billing. Your privacy is very important.
Remember that filling in new business is also often public. This means that company forms can end up causing your home address to be added to several unwanted mailing lists. If you don't want to be flooded with junk mail in your home, opt for a mailbox.
Professional Points
As we already mentioned in this article, clients often see a physical office as more professional than working from home. While this does not always make sense, it is still important that your business or company looks as professional as possible.
It is known how expensive it is to rent office space. It is a gigantic and simply unworkable task for many business owners. Because of this, renting a mailbox offers many of the same benefits at a fraction of the cost.
Along with this, a PO Box allows you to forward your correspondence to a new location before moving. This means that your email will automatically be forwarded to the new mailbox location. Simply be sure to update your address by notifying your post office.
Among other benefits, you can show that your business is legitimate and reliable by simply choosing to rent a mailbox.
Conclusion
After choosing your PO Box / mailbox location, size and rental period, all that remains is to make the payment. The USPS offers some ways to pay for your cash. You can pay at the local post office, visit a Postal Center kiosk, or send payment by mail.
You can even pay online. Be sure to renew your mailbox subscription on time to avoid any interruption in mail delivery.