Forever Stamps can be used over and over again.
Those notes are non-denominated. Instead of stating their monetary value, they bear a diagonally-struck "forever" and a circle around it.
With the Liberty Bell, symbol of economic independence, as its backdrop, the first Forever Stamp was released in 2007.
If you purchased these stamps at the time, you can still use them today without paying extra.
The creation of this system made the process much more convenient. By 2011, its unparalleled success instilled a major shift from the USPS, which now uses the Forever format except for coils of 500 stamps, 3,000 stamps, and 10,000 stamps.
How Was It Before Forever Stamps?
In order to understand Forever Stamps' impact, we must examine the postage stamp industry before 2011. Before 2011, all stamps had a specific monetary value denoting the first-class shipping rate at the time.
Since the shipping prices are always increasing due to the ever-growing inflation, the USPS had to print new stamps regularly with updated prices.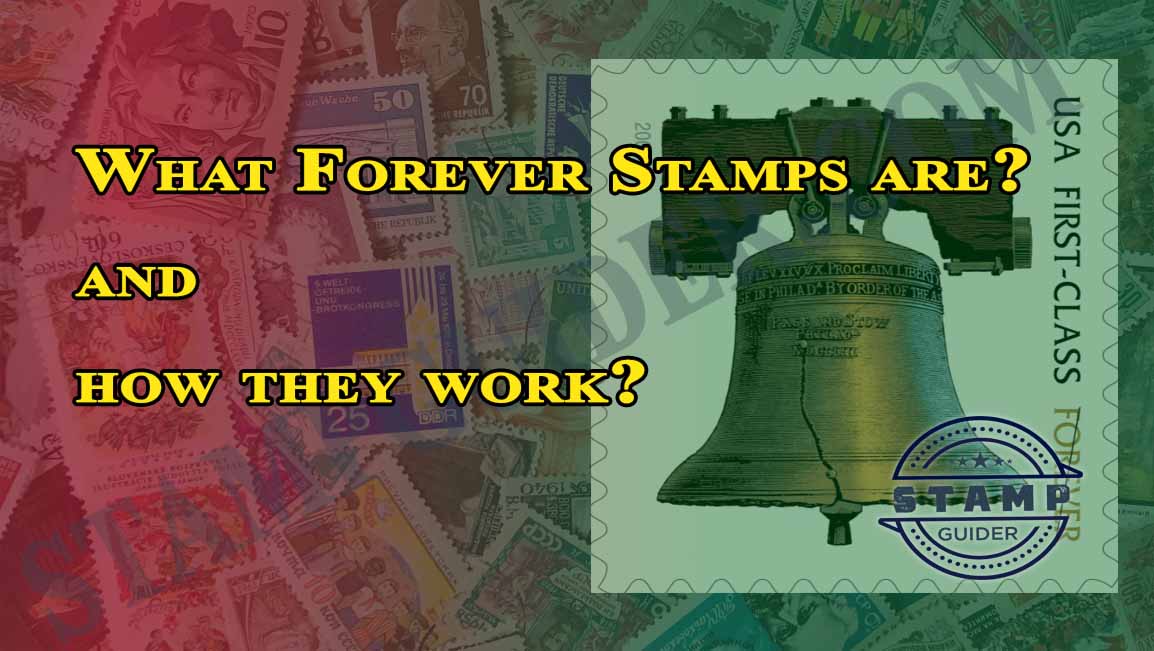 The price of one ounce of first-class postage was previously $0.39 in January 2006. This has since gone up to $0.41 starting in May 2007.
Using a stamp from 2006 in 2007 cost an extra $0.02 to cover the price difference.
Why was that bad?
Well, first of all, you had to visit the nearest post office multiple times in order to send a letter.
The United States Postal Service was forced to print enormous quantities of stamps, causing drops in profits.
Forever Stamps Types
The USPS offers various shipping classes under the Forever category.
| Shipping Class | Text On Stamp | 2021 Value |
| --- | --- | --- |
| First-Class | FOREVER | $0.55 |
| First-Class Additional Ounce | ADDITIONAL OUNCE | $0.15 |
| Two-Ounce First-Class | TWO OUNCE | $0.70 |
| Three-Class First-Class | THREE OUNCE | $0.85 |
| First-Class International | GLOBAL | $1.20 |
| Postcard Rate | POSTCARD | $0.35 |
How Forever Stamps Work
Buying Forever Stamps is easy. Simply buy them at the current first-class price and you never worry about how much it costs to send a standard letter. Attach the stamp to your #10 envelope and drop it in the mailbox.
Forever Stamps can be used for sending heavier packages or letters. No more than one stamp can be used at a time.
If one Forever Stamp costs $0.49, the next one is worth $1.00. If you paid $0.49 for your Forever Stamps and the rate increases to $0.50, your for a package is worth $1.00.
Sending letters internationally with Forever Stamps is also possible. You need to take the international postage rate and divide it by the current first-class postage rate to calculate your cost.
For example, you might lose money by using two Forever Stamps, even if they are worth $0.55. If the exact amount of postage you need will cost $0.60 you might save money at the post office or on the USPS website rather than using Forever Stamps only.
Forever Stamps are fine, but their value has no lasting power, so be careful with yours. Machines can reject stamps that are damaged, unreadable, torn, or taped to the envelope. They could also reject stamped envelopes that are taped or glued to the envelope.
Bring damaged or faded stamps to the post office to see if they can be exchanged, but keep your Forever Stamps stored flat in a safe, dry area to avoid problems.
Saving money by using Forever Stamps
The default value of Forever Stamps is substantial with regard to financial and logistical factors. Yet, some people treat Forever Stamps as a form of investment.
You'll ultimately save a considerable amount of money by stocking up on these stamps. How much, exactly?
The US postage rate history is necessary in order to determine that.
| | |
| --- | --- |
| Announcement Date | One-Ounce First-Class Rate |
| 3-Feb-91 | $0.29 |
| 1-Jan-95 | $0.32 |
| 10-Jan-99 | $0.33 |
| 7-Jan-01 | $0.34 |
| 30-Jun-02 | $0.37 |
| 8-Jan-06 | $0.39 |
| 14-May-07 | $0.41 |
| 12-May-08 | $0.42 |
| 11-May-09 | $0.44 |
| 22-Jan-12 | $0.45 |
| 27-Jan-13 | $0.46 |
| 26-Jan-14 | $0.49 |
| 10-Apr-16 | $0.47 |
| 22-Jan-17 | $0.49 |
| 21-Jan-18 | $0.50 |
| 27-Jan-19 | $0.55 |
The earlier data indicates that a booklet of 20 Forever Stamps purchased in 2007 for $8.20 will now be worth $11 — it might not seem like a large difference, but the difference adds up if larger amounts are purchased.
Buying Forever Stamps in bulk can save you money in the long run.
Using Forever Stamps to make money
It's crucial to ask if you can earn money when reselling your Forever Stamps.
It may seem silly at first glance, but this question is essential.
Almost any product can be resold for a profit in the future if its value increases.
Is the cash compared to inflation? Let us find out.
Postage Rate vs. Inflation Rate
The prices generally rise at a steady rate between 1991 and 2019. Data from 1991 to 2019 indicates that the prices moved with an average of 87.71%.
The postage rates have increased in price by 91.6 percent within the same time period, based on the inflation percentage.
Aside from the financial jargon, what are the implications for your investment?
Based on your calculations, you'll be earning less than a 1% profit each year by investing in Forever Stamps that's literally a tiny return on investment compared to almost all known investments.
The next year, if you sell 100 stamps books for $1,100 today, you may only get $1,111 if you sell them for that amount.
Postal business: the unfortunate truth
Let's examine the revenue reports of the United States Postal Service starting in 2007, the year Indefinite Stamps were launched.
| | |
| --- | --- |
| Year | Net Profit |
| 2007 | $5.1 billion loss |
| 2008 | $2.8 billion loss |
| 2009 | $3.8 billion loss |
| 2010 | $8.5 billion loss |
| 2011 | $5.1 billion loss |
| 2012 | $15.9 billion loss |
| 2013 | $5 billion loss |
| 2014 | $5.5 billion loss |
| 2015 | $5.1 billion loss |
| 2016 | $5.6 billion loss |
| 2017 | $2.7 billion loss |
| 2018 | $3.9 billion loss |
| 2019 | $8.8 billion loss |
Do you think you can do it if the company itself experienced a 13-year financial hole?
Where Can You Buy Forever Stamps?
Buying Forever Stamps at your local post office may seem an obvious solution, but this is actually the most recommended method.
If you're not sure how to postage something, the post office employees will help you with it quickly.
Discounted stamp books at Walmart and other large retailers are likely to be available if you're far from the nearest post office.
Generally, you will be able to obtain the necessary forms from your local grocery store, pharmacy, bank, and office supply.
The official USPS store sells all of the available designs if you want to follow the social distancing rules.
Conclusion
What is a forever stamp? – You can use this stamp indefinitely without incurring any additional costs.
You can save a lot of money on these stamps if you tend to use them often.