People have a pretty common idea about how the United States Postal Service (USPS) operates on weekdays. However, are post offices open on weekends? If so, what are the post office hours on Saturday and Sunday? If you have a package to send and are unable to go to the post office during the week, what options are available to you? Here are the answers to all of those questions.
Are post offices open on weekends?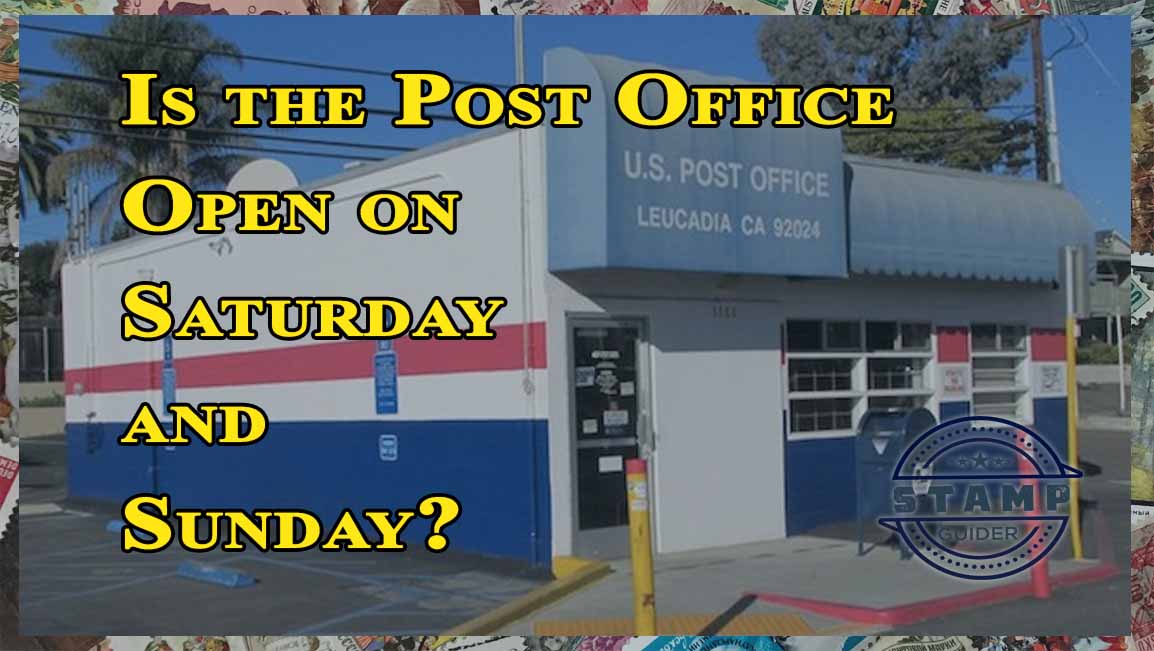 The local post office is open from Monday to Friday. In other words, there is no doubt that you can go to the local post office to send something or check your mailbox on a weekday (unless it is a holiday). However, weekends are different.
Some post offices are not open on weekends. Other places are open on Saturdays, but not on Sundays. For locations that are open on Saturdays, post office hours are generally different from working hours. In addition, there are some exceptions to normal weekend hours, including during the Christmas season and at post offices within other retail stores.
Some Post Offices Are Open Saturdays
Post office hours vary from place to place. This is particularly true when it comes to Saturday hours. Some locations are not open. Many are open with limited hours, closing earlier on Saturdays than on weekdays. Some others may be open on a regular basis on Saturdays. There is no clear answer that applies to everyone. Therefore, if you want to know if your post office location is on Saturday time, you will need to check with them directly.
You can use the USPS online locator to find out the hours of operation for post offices near you. When I searched a mile for my personal zip code, I found three locations with the following hours:
M-F: 9 – 5, Sat: 9 – 4, Sun: closed
M-F: 8 – 6, Sat: 8 – 3, Sun: closed
Mon-Fri: 1 pm – 3 pm and 3:15 pm – 5 pm, Sat and Sun: closed
In other words, I found that all three places closest to me closed on Sundays. Two were open on Saturdays, closing one hour and three hours before weekdays, respectively.
In contrast, I checked less than five miles from where my parents live and found that, of the seven locations available, only one was open on Saturdays. Obviously, the USPS budget and post office hours vary widely from place to place.
Post offices close on Sundays
Almost all post offices are closed on Sundays. The main reason is the reduction in operating costs. In other words, the USPS saves money by closing all locations one day a week. However, there are two main exceptions that allow some mailing hours on Sundays:
Some locations have post office hours on Sundays on the two Sundays before Christmas each year. Due to the increased processing of mail during the holidays, some locations choose to open these two Sundays.
There are post offices within several retail stores. In some cases, they are post offices that operate 7 days a week. Therefore, you can find the post office hours on Sundays in such places.
Post Office closed for holidays
Post offices follow a federal holiday calendar. Therefore, they will be closed on the following days in 2021:
New Year's Day
Martin Luther King Jr Day
Presidents Day
memorial day
Independence Day (they will close on Monday, July 5 in observance, as they are already closed on Sunday, July 4)
Labor Day
Columbus day
Veterans Day
Day of Thanksgiving
Christmas Day (Christmas is on Saturday; many post offices also close the Christmas EV in observance of the holiday, especially those that do not maintain normal post office hours on Saturdays).
Do post offices deliver mail on weekends?
You should already know the answer to that question if you check your email regularly. The United States Postal Service delivers mail six days a week. Therefore, you receive correspondence in your mailbox on Saturdays. However, the post office does not deliver mail on Sundays.